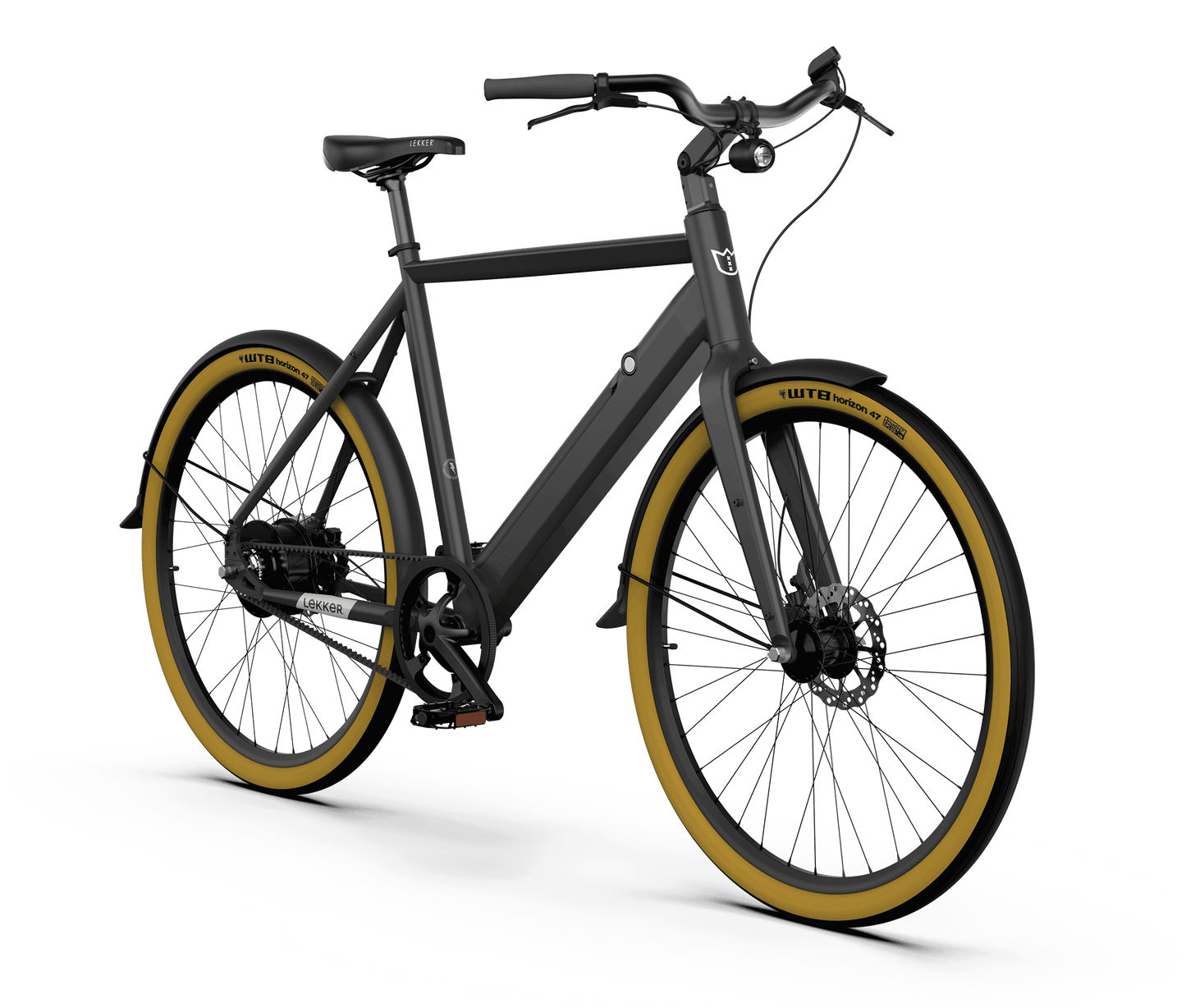 Lightweight
Get on and go
Low-maintenance
Less is more
Reliable
No glitchy gizmos
Convenient
Made around you
Amsterdam+ eBike
Sale: shop now and save big. Our all-new and improved Amsterdam+ has officially landed. Stand out from the crowd with smooth tan-wall tyres; make sure your ride fits your style with an adjustable handlebar stem and sleek, integrated cable routing; and stay seen with brighter lights for those darker nights.

Available to lease through JobRad.
€2.298,00
Shipping in 1-2 weeks
Sale now on - Save €400

€2.298,00
Shipping in 1-2 weeks
Sale now on - Save €400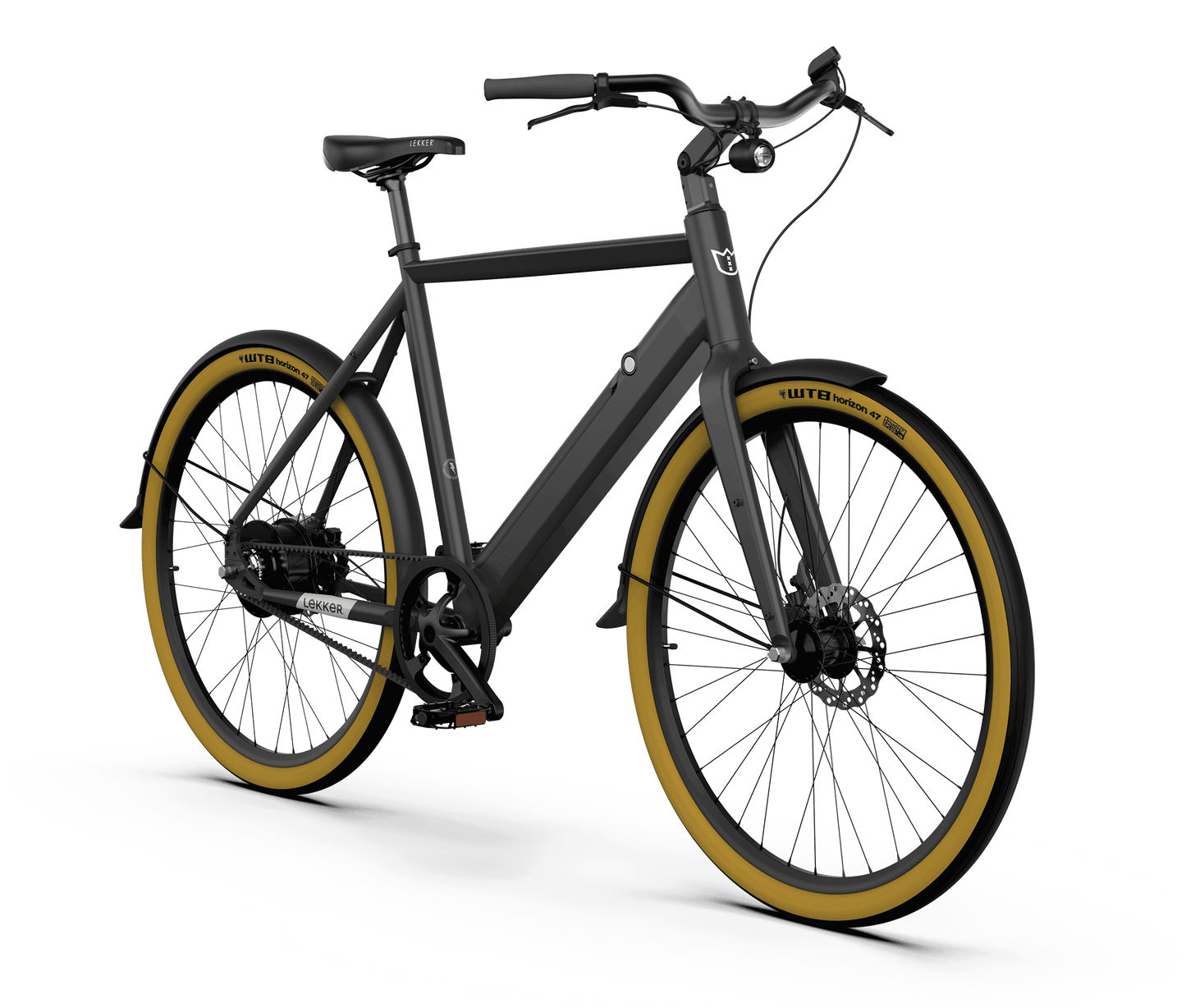 Lightweight
Get on and go
Low-maintenance
Less is more
Reliable
No glitchy gizmos
Convenient
Made around you
Amsterdam+ eBike
Color:

Battery:

Frame Size:

Gear:
You haven't selected any accessories.
Shipment and payment
You can select your shipment and payment preferences on the next screen.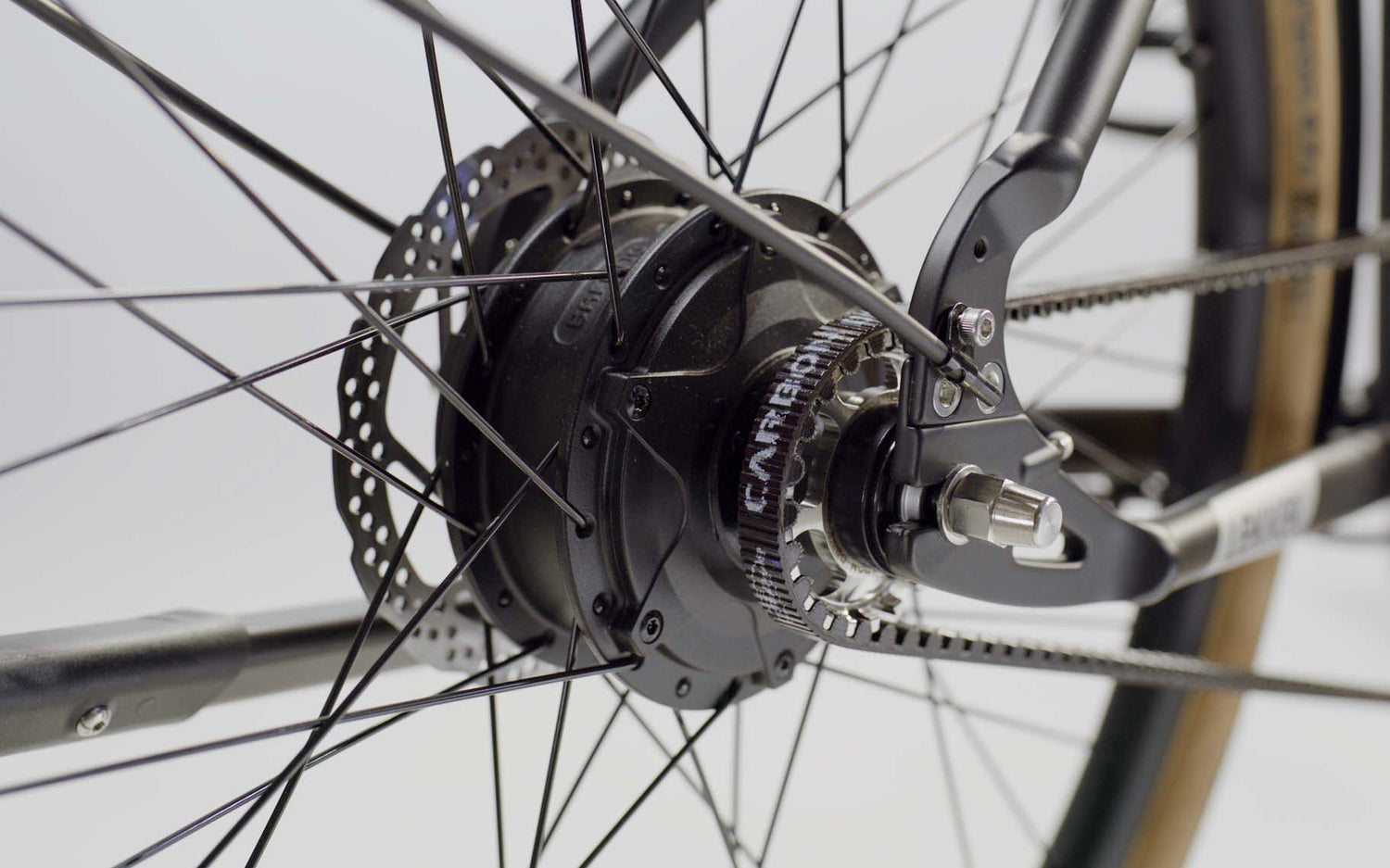 Rear hub motor
One speed, all the assistance you need. Smooth and silent, the Bafang H400 rear motor makes the daily commute smooth sailing. Well, riding.
Removable battery
Choose from two batteries, ride up to 100km on a single charge. Take it off, take it indoors, charge it up, head off. Beautifully simple. Easy to replace, easy to upgrade.
Gates CDX Carbon belt drive

Needs less taking care of than a pet rock. Weather-resistant, flexible, durable, it's made with stretch-free Gates carbon fibre tensile cords. And it's silent too.

100% adjustable riding

We've gone for a 'moustache' handlebar shape (as opposed to a handlebar moustache) that's totally adjustable so you get the perfect riding position.
Motor
Bafang Bafang Rear hub motor, 30Nm Torque
5 assistance levels
25km/h assistance
RM G310
Lights
Front Light Litemove SE-70
Rear Light Integrated in Lightskin LED S311 seatpost
Charger
MDA257 100 - 240v / 42V 2A

375Wh Battery:
Charger 2A = 6.2h / Supercharger 4A = 3.1h

500Wh Battery:
Charger 2A = 8.3h / Supercharger 4A = 4.1h
Removable battery
375Wh capacity (10.5Ah, 36V). Range: 40km – 70km 500Wh capacity (14.5Ah, 36V). Range: 65km - 100km
General
Frame Aluminium 6061 Smooth Welded Diamond frame
Fenders Aluminium
Fork Aluminium 650B Tapered fork, integrated cable routing
Wheels
Rims Aluminium 36H, double walled
Tires WTB Horizon 650B x 47 Tan-wall
Brakes
Rotors 160mm
Brakes Premium Hydraulic Disc brakes
Cockpit
Stem ZOOM TDS D636B
Grips VELO VLG-649
Headset PRESTINE T-1863C-078
Handlebar Mustache model. Width 640mm, 31.8mm*22.2mm
Drivetrain
Belt GATES CDX Belt
Front Sprocket GATES 63T 5 arm
Rear Sprocket GATES 22T
Crankset
Bottom Bracket NECO B920AL Square taper. 122,5mm * 68mm
Cranks GATES CDX S250 175mm
Pedals WELLGO VP565
Gearing
Gear Hub Single Speed
Accessories
Experience Box Includes toolset, reflectors and bell
Kickstand DY JP-AKS029
Maximum load: 40KG
Size chart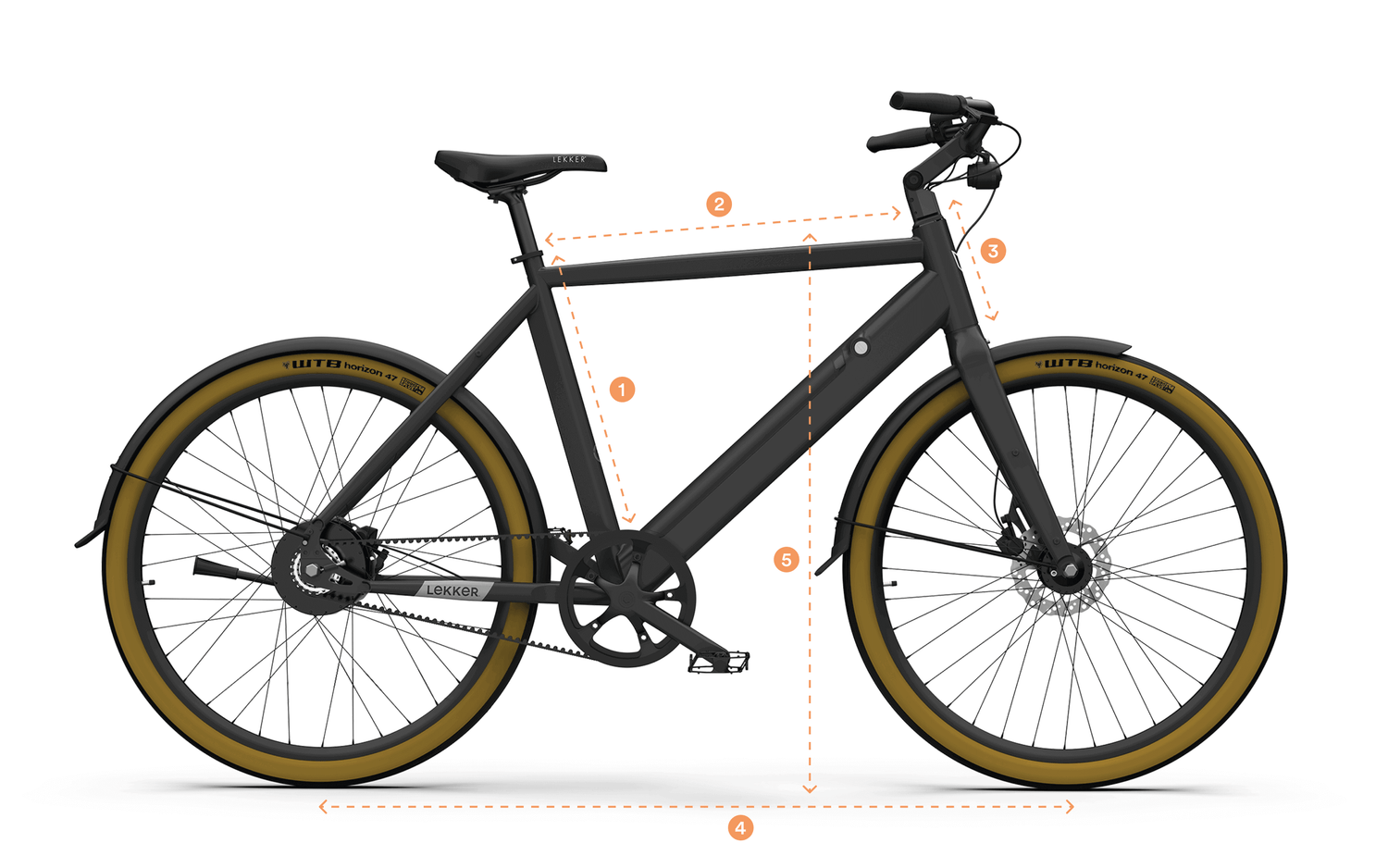 Height range For riders 165-180 cm
Stand over height 81,5 cm
Height range For riders 155 - 170cm
Height range For riders 180-205 cm
Stand over height 85,5 cm
Compare eBikes
Motor Bafang Rear hub motor, 30Nm Torque
Removable battery Up to 100km
Tires WTB Horizon 650B x 47 Tan-wall
Weight 21.0 kg
Brakes Premium Hydraulic Disc Brakes
Gears Single Speed
Drivetrain GATES CDX Belt
Motor Bafang Mid motor, 80Nm Torque
Removable battery Up to 120km
Tires WTB Riddler 700C x 45 Black
Weight 24.0 kg
Brakes Premium Hydraulic Disc Brakes
Gears Enviolo City hub (310°)
Drivetrain GATES CDX Belt
Don't just take our word for it
Got questions? We've got you.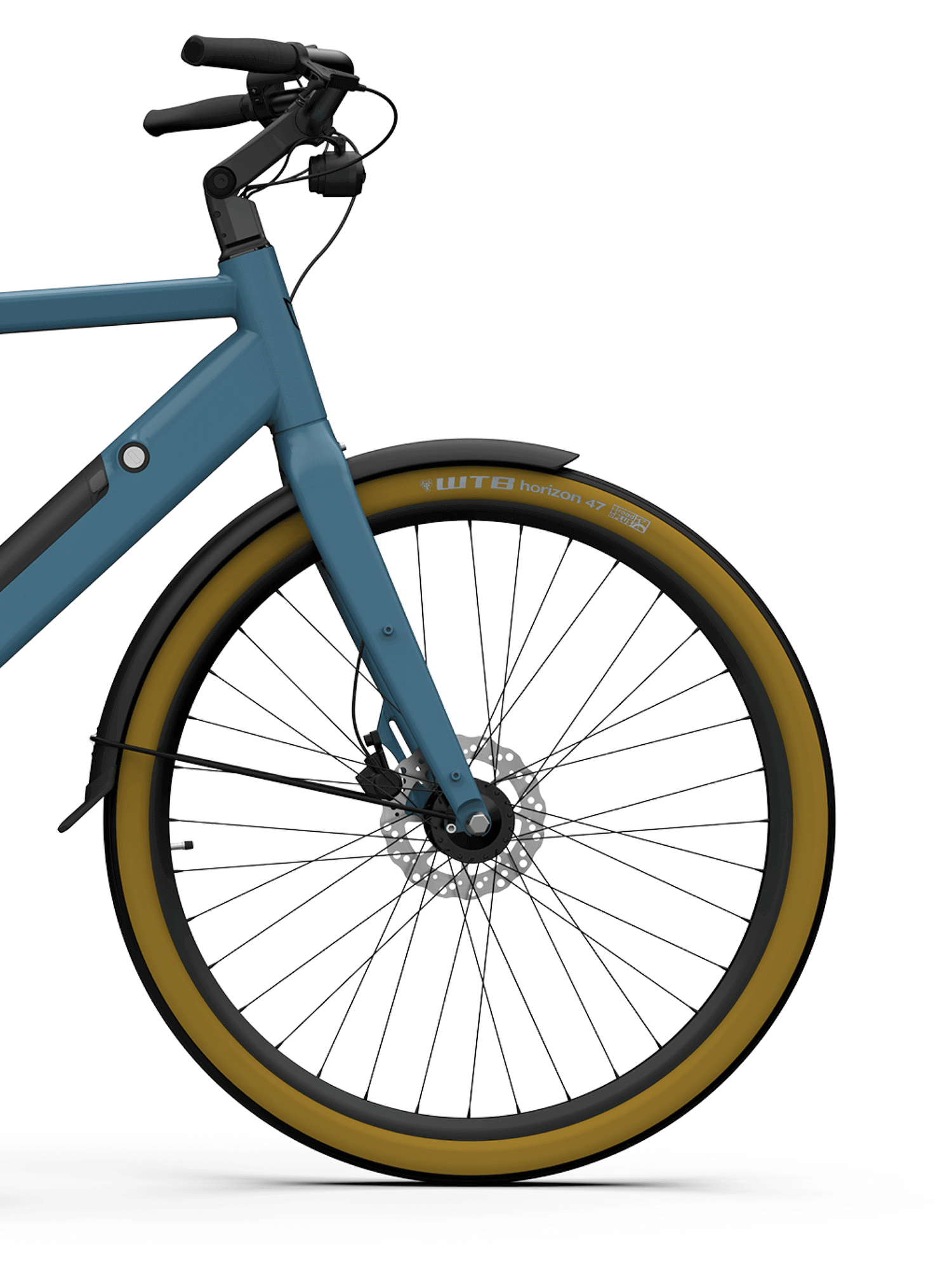 Good question. Amsterdam+ is our lightweight rear motor Amsterdam eBike with a single-speed gearing. It's the perfect commuter electric bike, agile in every urban environment, ideal for quick rides to and from work (and everywhere in between). Oh, and it's super-responsive too.

Amsterdam GT is 5kg heavier with a slightly larger frame and a more upward seating position, which lots of riders find more comfortable. The Max Mid-drive motor by Bafang, together with the Enviolo CT integrated hub provides a heavy power boost and full control when riding.
Ah, you must be a serious electric cycling tech-head. OK here goes.

The lightweight Amsterdam+ eBike has a lightweight motor to match. The super-efficient, ultra-durable H-Series Bafang rotation sensor motor weighs just 3kg with a rated power of 250W and a maximum torque of 32 N.m. It sits at the back, meaning better traction than front wheel electric bikes. There's less gyroscopic effect when you're speeding through the city streets. Or, to put it in a way you'll love. Rides like a motorbike, but it's an eBike.
First up, yes every LEKKER eBike has a removable battery, so you don't have to take the whole electric eBike inside for charging. Plus, upgrading or replacing's easy. Which brings us to question 2. Here are the battery specs for the Amsterdam+.

Standard: 375Wh capacity (10.5Ah, 36V). Range: 40km – 70km
Upgrade: 500Wh capacity (14.5Ah, 36V). Range: 65km - 100km
Sure we can. And we'll keep it simple. It's the Dutch way. The Amsterdam+ eBike has a single gear (told you it was simple). The lightweight 250w Rear Engine and carefully chosen gear ratio will keep you going. And going. And going. Don't waste time changing gears, just fly. Well, ride.
The really cool thing about the premium CDX belt is that it's made with stretch-free carbon fibre tensile cords. Plus the advanced urethane technology means the belt's weather-resistant, flexible and durable. Best of all, that means low noise and zero maintenance.
The LEKKER Amsterdam+ eBike comes with WTB Horizon 650B x 47 tyres, for maximum traction and smooth riding, beyond pavement roads. So light gravel roads and dirt won't be a problem. It's probably best to stay off the mountains and hardcore mudtracks though.
The Amsterdam+ is designed as a single speed bike. You can choose from 5 levels of power assistance, together with a gear ratio of 63*22 to keep boosting your cadence when reaching higher speed! Wheeee!
Yes! The Amsterdam+ Dutch electric bike is fitted with the Litemove SE-70 and the newest Lightskin LED integrated seat post lights which are both STVZO approved. Lights are display-operated and powered by the battery.
Well, we're not saying you can ride your LEKKER eBike into a canal or anything, but the intelligent LCD displays on all our electric bikes are protected against water, dust, oil and other non-corrosive material. They're IP65 rated, which is a top-5 rating.
We're not going to answer that because it would be a Very Bad Thing To Do. We want you and your fellow road users to stay safe. And we're law-abiding people. So you need to know that riding tuned eBikes with a speed limit above 25km/h is against the law. It will void the warranty on your Dutch eBike and your insurance coverage too. Plus, it can have serious legal consequences. Like we said, a Very Bad Thing.

But wait! Although your motor's capped at 25km/h, your eBike won't be gated. So if you feel the need for speed (and your legs are strong like Marianne Vos) you can pedal as fast as you want.
Sorry, the Amsterdam+'s motor isn't quite up to the task of hauling around your sprogs, dogs and, er, logs. But if you're looking for an eBike with more pulling power, how about the Amsterdam GT?
You might be wondering how the support level of our motor works. We've got you covered. There are five different levels of support that will help you when you ride your LEKKER bike. Each level has an extra 5km/h of assistance. Level 1 gives support up to 5km/h, level 2 up to 10km/h, level 3 up to 15km/h, level 4 up to 20km/h and, you guessed it right, level 5 gives you assistance up to 25km/h.
It sure is. Our bikes are made for babies (as passengers – babies aren't great at riding bikes). They're sturdy, light and comfortable – perfect for taking junior on an adventure. We don't sell baby seats, but any baby seat that fits onto a rear rack will fit perfectly.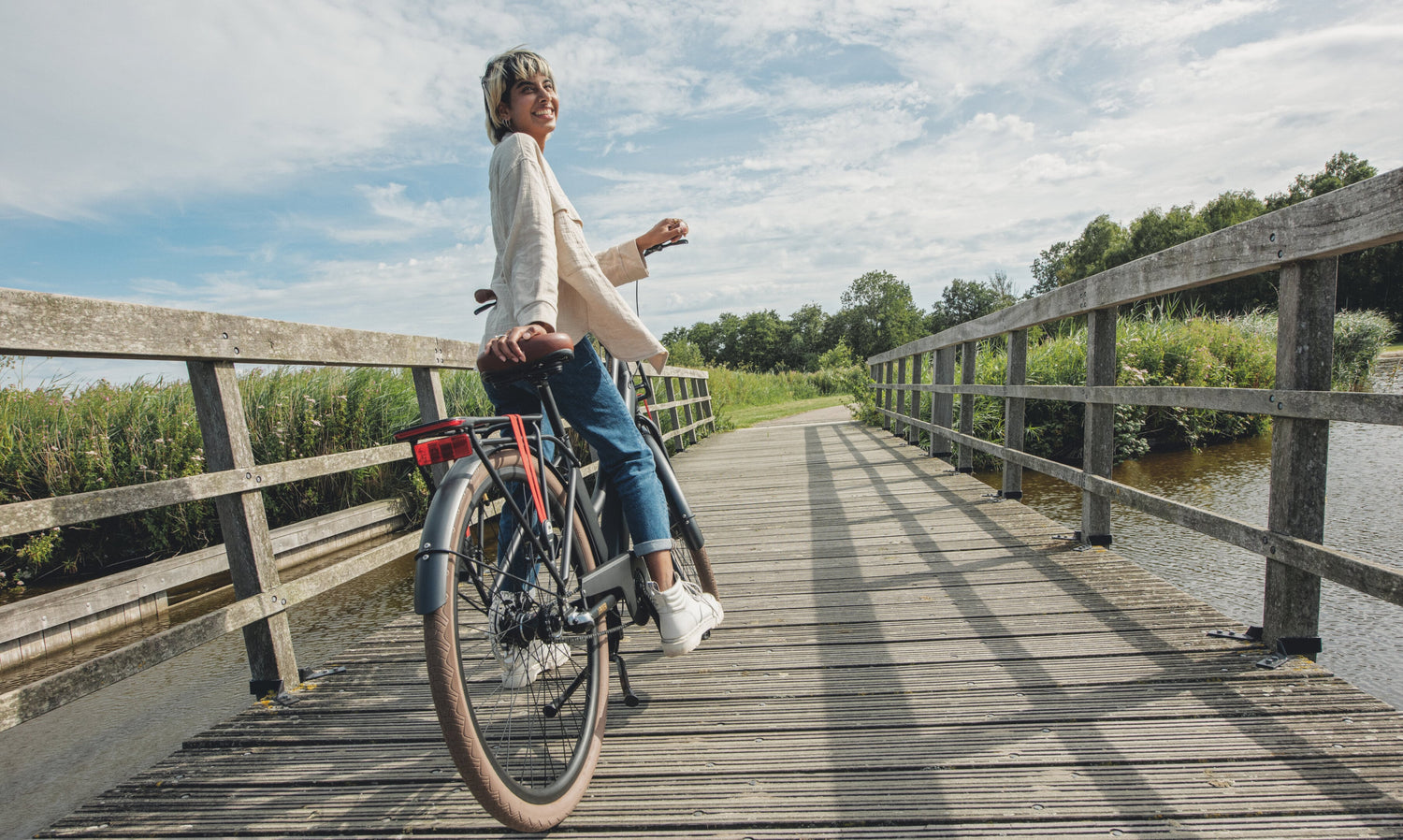 Maybe Jordaan's more your style?
A modern take on the classic ladies' bike that's for everyone. This is pure Dutch design from front rack to back. A range to get you out and about – and loving every minute. Whether you're on your way to work (or somewhere way more interesting). Light and fast. Powerful and silent. Want. Now.