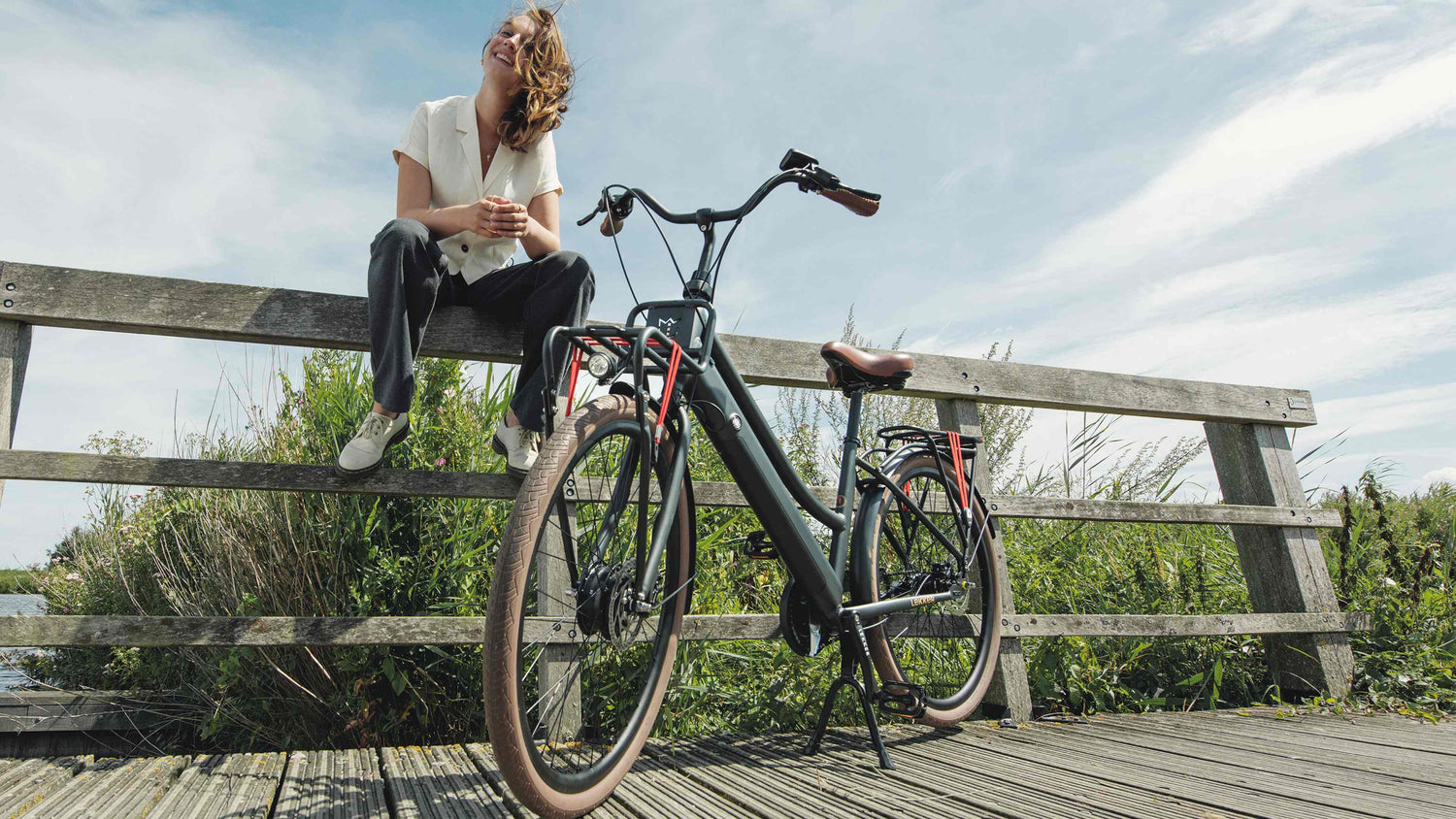 Jordaan eBike range.
Comfort. Class. Coooool.
Why Jordaan?
Because it's a super comfortable ride (and with the powerful motor, super easy too). Because you can service your eBike in any bike shop, worldwide. Because the padded saddle's better for your butt. Because it's fun. Because it's unmistakably Dutch. Actually, just because.
Practical fun

Double kickstand? Easier to park up and show off. Steering lock? Super stable. Removable battery? Hassle-free charging. Front and back racks? Included. And as for the ride – it's simply fantastic.

Comfort as standard

Utterly effortless (as you'd expect from an eBike). And with a low step-through frame, padded saddle and upright seating position, completely comfortable.

Classic design, modern twist

A modern take on a Dutch classic. Timeless looks, all-new colours. Plus all the mod cons to bring everything bang up to date.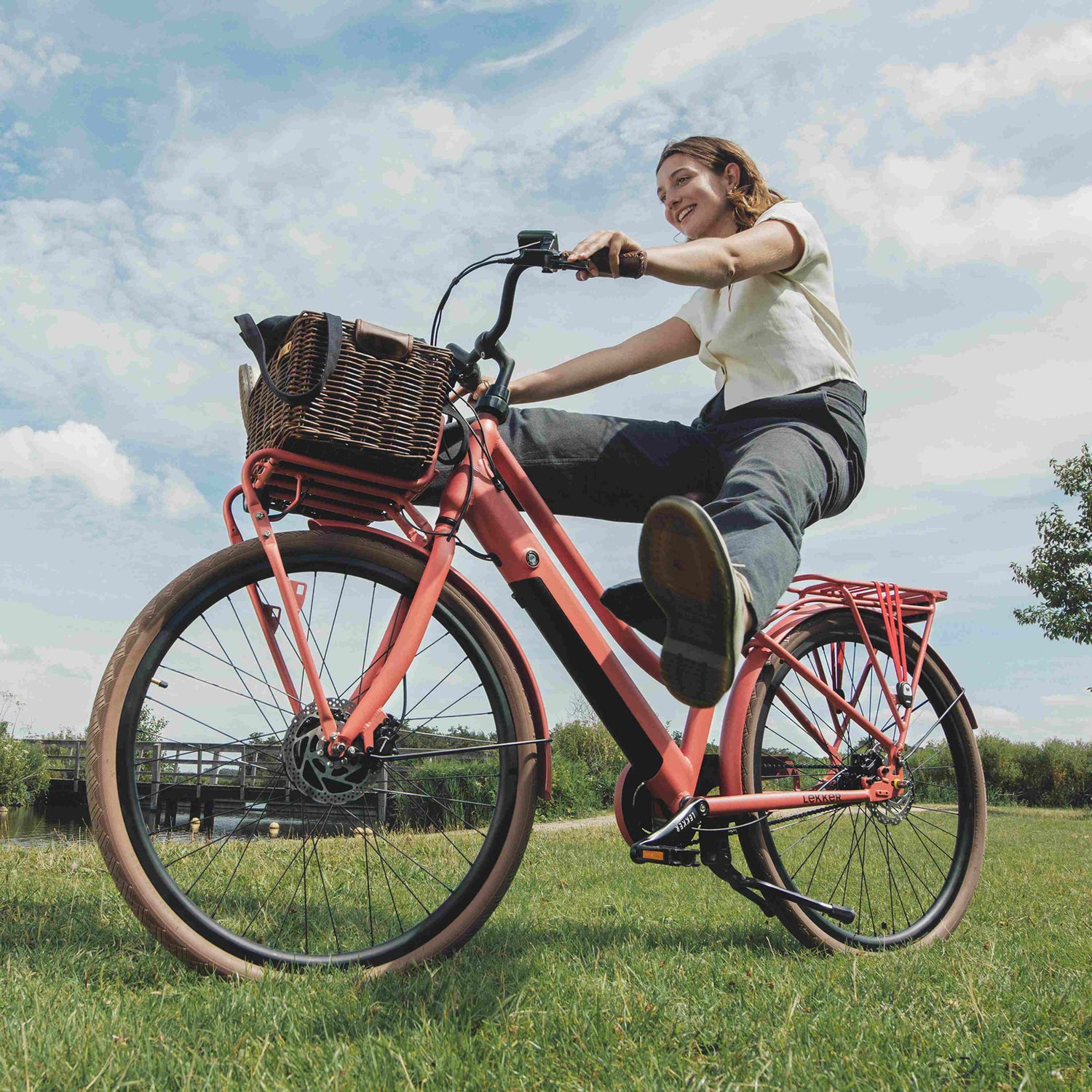 Jordaan+
Convenient · Comfortable · Stylish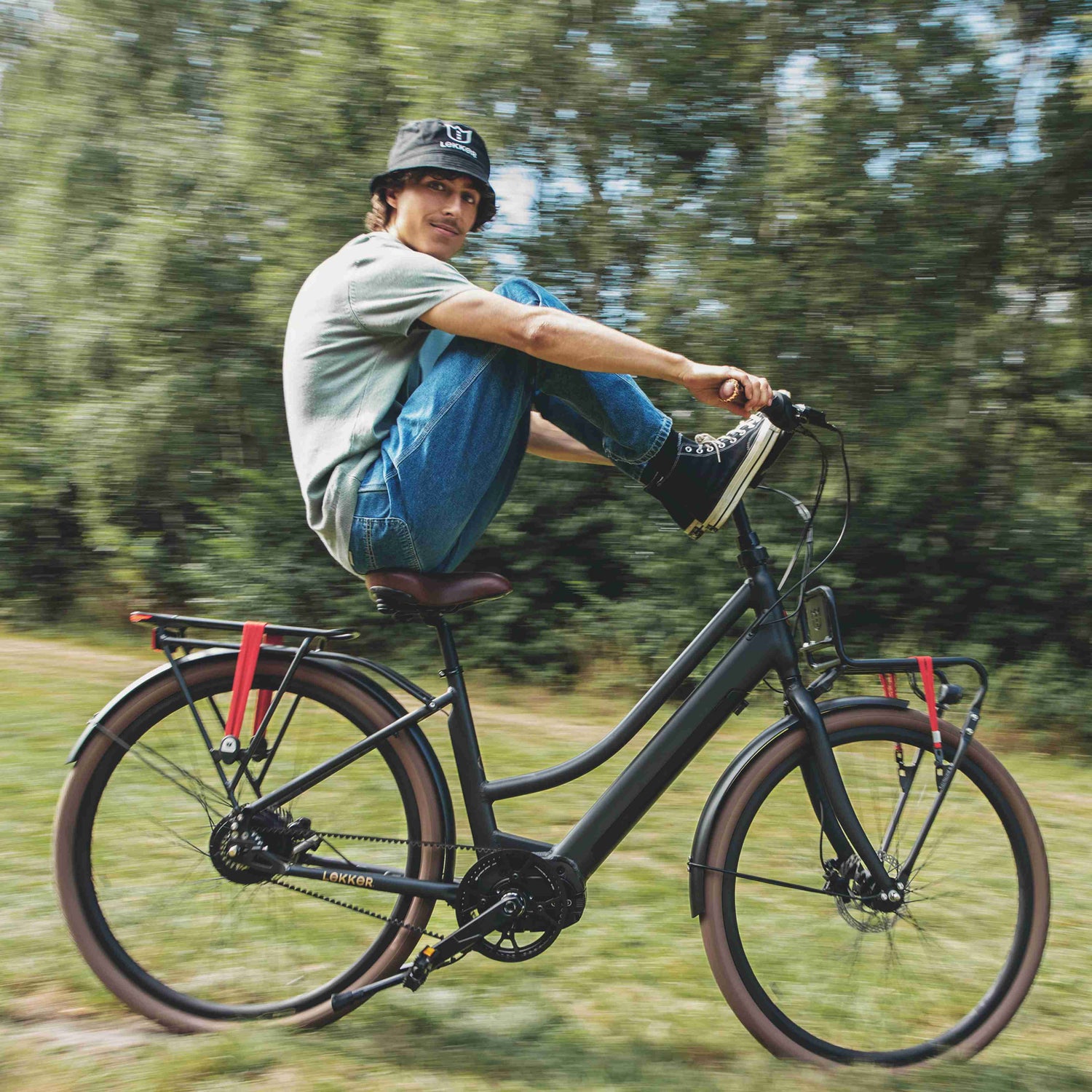 Jordaan GT
Dynamic · Powerful · Practical
Who am I: a Plus or GT rider?
Jordaan+
Ideal Rider

Perfect for flat-city commuting with shorter distances in mind (up to 25km per day).

Up to 100kg maximum weight limit.

Suitable for front or rear child seats.

Terrain: Paved and sealed road surfaces.

Power Train

Front hub motor with 30Nm of torque.

Shimano Nexus 3-speed gear hub with chain.

Dynamics

Motor activation: Rotation sensor, which turns the motor-power on when you pedal.

Power sensation: Constant and prompt.

5-levels of speed assistance (up to 25km/hr).
Jordaan GT
Ideal Rider

Perfect for both city-cruising and hill-climbing. Adaptable as a city bike, long-distance commuter, or weekend explorer.

Up to 115kg maximum weight limit.

Suitable for front or rear child seats.

Terrain: Paved and sealed road surfaces.

Power Train

Mid-drive motor with 80Nm of torque.

Gates CDX Belt Drive System.

Enviolo stepless manual hub that provides smooth shifting for rolling hills or at speed on the flats.

Dynamics

Motor activation: Torque sensing mid-motor that provides adaptive assistance. The harder you pedal the more torque is delivered. Active from the moment your bike is turned on.

Power sensation: Intuitive and natural.

5-levels of torque assistance (up to 25km/hr).
Compare Jordaan eBikes
Motor Bafang Front hub motor, 30Nm Torque
Removable battery Up to 100km
Tires CST Zeppelin 28" x 1.75"
Weight 24.0 kg
Brakes Premium Hydraulic Disc Brakes
Gears Shimano Nexus 3-speed IGH
Drivetrain Chain
Motor Bafang Mid motor, 80Nm Torque
Removable battery Up to 100km
Tires CST Zeppelin 28" x 1.75"
Weight 27.0 kg
Brakes Premium Hydraulic Disc Brakes
Gears Enviolo City hub (310°)
Drivetrain GATES CDX Belt
Take us for a (test) ride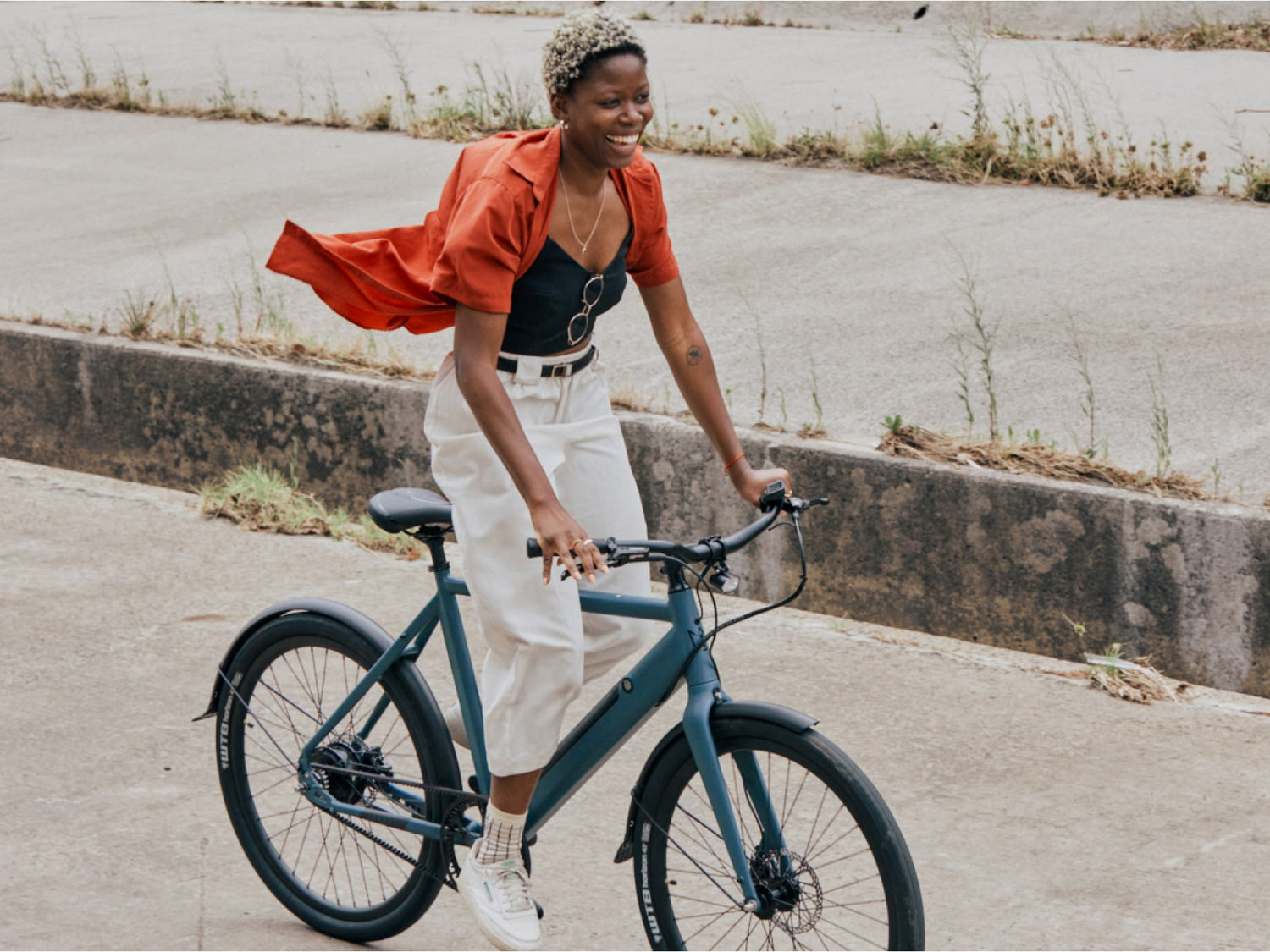 Maybe Amsterdam's more your style?
Sleek, stylish, stripped back and smooth. With its diamond frame and quiet motor, the Amsterdam eBike range is the strong, silent type. Super-powerful and lightweight, it's an amazing ride – whether you're cycling through the city or flying even further afield. It's a big world out there. On your marks, get set, go go go!
Got questions? We've got you.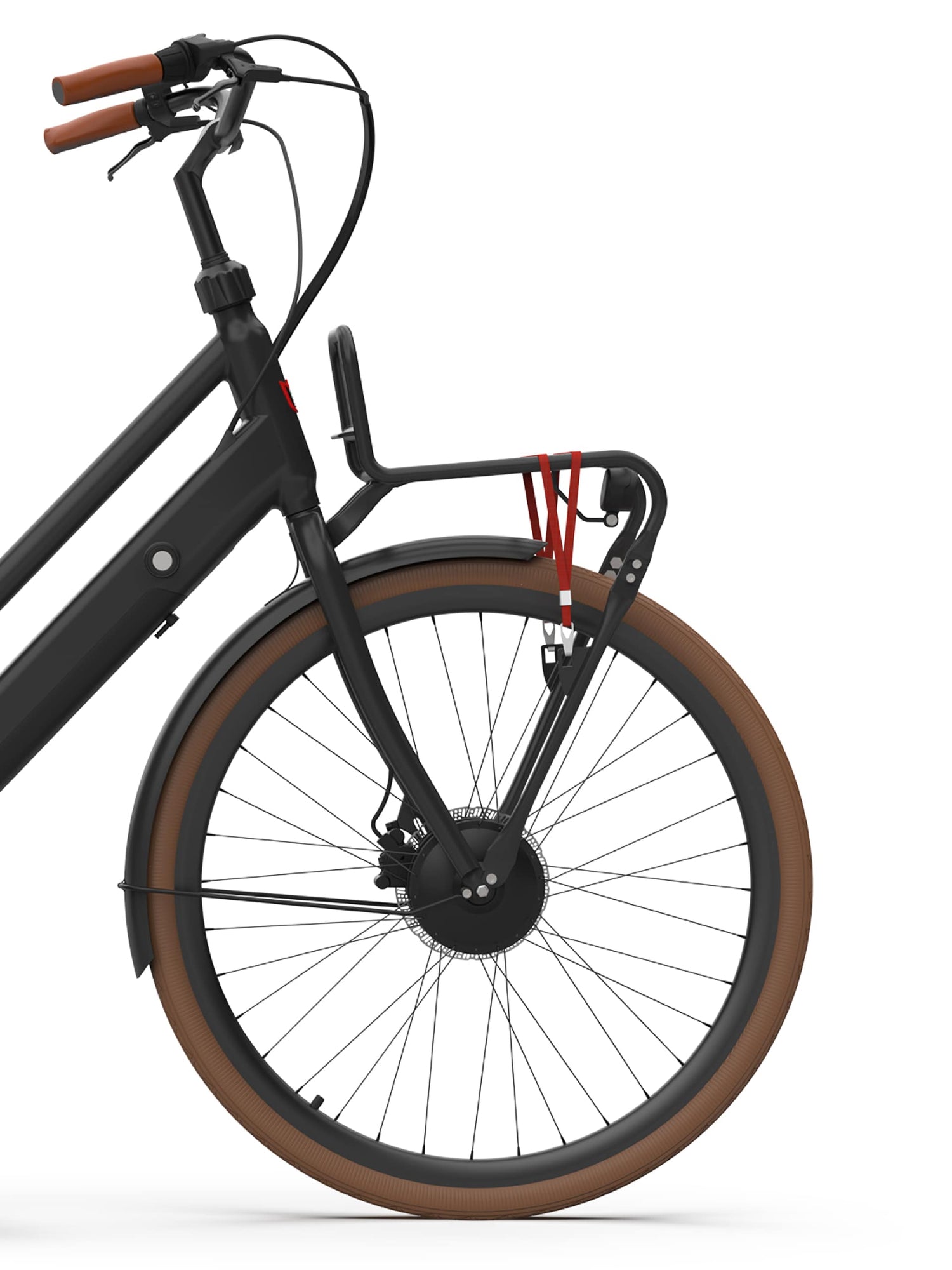 Good question. Jordaan+ is our lightweight front motor eBike with a single-speed gearing. It's the perfect step-through commuter electric bike, agile in every urban environment, ideal for quick rides to and from work (and everywhere in between). Oh, and it's super-responsive too.

Jordaan GT is a little heavier with a slightly larger frame. The Mid-drive motor by Bafang, together with the Enviolo integrated hub provides a heavy power boost and full control when riding.
Ah, you must be a serious electric cycling tech-head. OK here goes.

The Jordaan+ has a powerful Bafang H400 Front Hub Motor to spice up your commute, make hills hills feel flat and effortlessly get you up to speed. The Pedal-Assist system, with 5 levels of power-assist, keeps you in full control of the 250w output. The Shimano Nexus 3 Speed gearing hub is the best fitting lightweight gearing hub that syncs perfectly with the Front Hub Motor.

The powerful and silent Bafang H420 Mid-Drive Motor on the Jordaan GT does everything the Jordaan+ can and way more. The Enviolo seamless gearing and Gates carbon belt drive perfectly pairs with the mid-drive Motor, ensuring the smoothest ride, every time.
First up, yes every LEKKER eBike has a removable battery, so you don't have to take the whole eBike inside for charging. Plus, upgrading or replacing's easy. Which brings us to question 2. Here are the battery specs for the Jordaan range.

Jordaan+
Standard: 375Wh (10.5Ah, 36V). Range: 40km – 70km
Upgrade: 500Wh (14Ah, 36V). Range: 65km – 100km

Jordaan GT
Standard: 375Wh (10.5Ah, 36V). Range: 40km – 70km
Upgrade: 500Wh (14Ah, 36V). Range: 65km – 100km
Go for it. You can take both the Jordaan+ and the Jordaan GT eBikes on the road, off the road, on gravel and through light mud. All-purpose for everyday cycling (but the experience is far from same-old, same-old). But it's probably best to stay off the mountains and hardcore mudtracks though.
Well, we're not saying you can ride your LEKKER eBike into a canal or anything, but the intelligent LCD displays on all our Dutch electric bikes are protected against water, dust, oil and other non-corrosive material. They're IP65 rated, which is a top-5 rating.
We're not going to answer that because it would be a Very Bad Thing To Do. We want you and your fellow road users to stay safe. And we're law-abiding people. So you need to know that riding tuned Dutch eBikes with a speed limit above 25km/h is against the law. It will void the warranty on your eBike and your insurance coverage too. Plus, it can have serious legal consequences. Like we said, a Very Bad Thing.

But wait! Although your motor's capped at 25km/h, your eBike won't be gated. So if you feel the need for speed (and your legs are strong like Marianne Vos) you can pedal as fast as you want.
It sure is. Our Jordaan models are made for babies (as passengers – babies aren't great at riding bikes). They're sturdy, light and comfortable – perfect for taking junior on an adventure. We don't sell baby seats, but we can recommend the Bobike One, which fits perfectly on both the Jordaan+ and the Jordaan GT eBikes.
Just the Jordaan GT eBikes. Only the GT's powerful high-torque Bafang M420 Mid-Motor is up to the task of hauling around your sprogs, dogs and, er, logs. The maximum combined tow rating is 45kg (trailer & payload), so don't let a mate clamber in, however funny it might seem at the time.

You'll need to buy the additional Thule Internal Hub Hitch Adapter SRAM, M10x1.0 (Thule Part #20100798) for it to be secured onto the GT's Enviolo Axle. This replaces the rear left-hand axle nut to allow the Thule EzHitch Cup to be fitted. Please make sure you follow all the installation instructions correctly. If you're a bit nervous putting stuff together, we suggest getting help from your friendly neighbourhood bike professional.
The motor support level of the Jordaan+ depends on how fast you are riding your eBike. It will assist you in 5 different levels. Level 1 gives support up to 5km/h, level 2 up to 10km/h, level 3 up to 15km/h, level 4 up to 20km/h and, you guessed it right, level 5 gives you assistance up to 25km/h.

The motor of your Jordaan GT assists you on different levels, regardless of how fast you are riding. The support of level 1 is 20%, level 2 equals 40%, level 3 assists you to 60%, level 4 is 80% and level 5 will give you 100% assistance if needed.
Yes, you can add a belt guard to your Jordaan GT eBike. Even though no lubricating grease is used for the belt drive and no chain guard is required, clothing such as pants, skirts, or loosely worn garments can still get caught in it. We recommend installing a belt guard for added safety.
Reading. And riding.
We make, ride, live and sleep eBikes. But not eat them – that's too much. Check out our blog posts here.
Don't just take our word for it